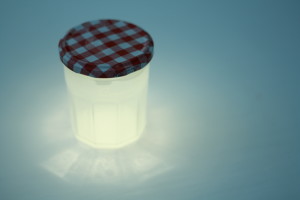 Sundays, October 5th, 12th, and 19th (1 to 6 pm).
In this three-day workshop at the MIT Media Lab, participants learn everything they need to create a simple electronic device.
designing an electronic circuit board and getting it manufactured
soldering electronic components
working with sensors to detect light, motion, and sound
programming microcontrollers
debugging
At the end of the workshop, they go home with their own custom interactive light.
Workshop Fee: $150 (includes all required materials and resources)
Session 1. Device Assembly and Programming
Examples: jar light w/ accelerometer (above light); nightlight w/ light sensor (above right); candle light w/ microphone (lower left); Pac-Man light (lower-right).
Download:
Install:
Run Arduino.
Find the newly-created "Arduino" directory in your documents folder. (It should contain a directory called "libraries".) Create a folder inside the Arduino directory called "hardware" (next to the "libraries" directory).
Move the "attiny" folder (inside the "attiny-master" folder) into the Arduino > hardware folder. For example, the file boards.txt should end up in Documents/Arduino/hardware/attiny/boards.txt.
Restart the Arduino software.
Look in Tools > Boards. You should see items starting with "ATtiny".
Session 2. Circuit Board Design
Download:
Install:
Run Eagle.
In Options > Directories, add the directory containing the SparkFun Eagle libraries (e.g. SparkFun-Eagle-Libraries-master) to "libraries". (Click in libraries, then click the browse button and navigate to the directory.)