Group4: The Conversation
The Conversation is a performance in three acts, in which sounds, colors and graphic elements enter into a dialogue upon the poster stage.
Project description :
"Clap you hands, make sound". Our project started from this sentence. The first idea was that the poster is an autonomous person. The interaction then is that you applause the poster. From two posters, one speaker the other one listener, we made one single poster. On it is happening a conversation between sound and color. A choreographed process which is generating a sound, that will generate a change in the color. The colors changing can also generate a sound. So the poster is showing a repetitive feedback between sound and colors.
There is 3 parts we work on : graphics and color, sound, and electronics. We made a lot a test with termochromic ink mix with regular colors in serigraphy studio, and manage to design an animation for the poster. The speakers are made in paper and placed behind the colored part of the poster. A circuit will give heat to warm the graphic and make the thermochromic ink react and change color.
Act 1: Reverb
Sounds and graphics simultaneously evolve, listening, observing and reacting to one another. Culminating in a sound-scape of noise and visual chaos. The loop between graphics and sounds is the materialization of visuals and acoustics reverberating within the space of the poster.
Reverberation: http://en.wikipedia.org/wiki/Reverberation
Act 2: Splashes of Sound
Sounds appear as color stains on the poster. These stains grow with increasing volume until they evolve into waves of color taking over the entire stage.
Act 3: The Jam Session
Graphics and sound communicate like in an improvised jam session. Taking turns they alternate to create the closing scene for The Conversation.
The Team
Yonah: "Re-learned screen printing and learned to use thermochromic ink. And also it is always nice to see a new way to work. To see people always taking pictures and videos, because i am not normally working like this and it can be really valuable to document your work."
Lucie: "I discovered the really beautiful LilyPad! And how to work with thermochromic ink and electronic yarns. To think in a new way about electronic applications, not in the sense of technology but in functionality and usage."
Hannah: "I learned about large-scale screen printing and the process of selecting colours through making trials. Working in a team with different expertise can be very productive and rewarding and i really enjoyed it."
Martin: "A lot of technical stuff. The first time working with thermochromic ink as well as conductive ink and other conductive materials such as copper tape. Also to do electronics in a different manor, using different materials and techniques such as conductive threads and sewing. It was also interesting to work on the poster, because i usually work in 3D."
The Future
- Defining the colour change areas better.
- Being able to control the spread of hear (and colour change).
Construction Process
All Together – The Conversation
Testing thermochromic layer:

Step 6: The Circuit
The speaker circuit

The graphic circuit

Step 5: Screenprinting
Screenprinting video

Thermochromic mix!

Color Scheme
Step 4: Experimenting with Thermochromic Paint
Here is a video of thermochromic ink examples using 6V and different conductive (resistive) paints (carbon, copper). You can see that the copper paint heats up more evenly and the resistance of the carbon paint is less even and so it sometimes heats up unevenly and only in certain places.
Video of different examples:

Video of a Perfect Circle
:

Step 3: Brainstorming
Materials
- Thermochormic ink (preferably blue, otherwise orange)
- 10 speakers (to harvest AWG 32 copper wire and Neodymium Magnet 1" Diameter x ½" for making paper speakers)
- LilyPad Arduino
- A1 sheet of paper
Step 2: Experiments with Sound and Paper
Trying to make sound with paper.

Trying to make a paper speaker.

Step 1: Learning about screen printing and electronics
Technology and Design
Thermochromic ink
Maggie Orth's thermochromic textile weaves: http://www.maggieorth.com/

Mika Satomi's thermochromic patterns: http://www.flickr.com/photos/14412219@N04/sets/72157625534286485/

Speakers
DIY paper speaker: http://www.instructables.com/id/Paper-Plate-Speaker/?ALLSTEPS
Paper speaker: http://www.instructables.com/id/Paper-Plate-Speaker/?ALLSTEPS
Textile speaker: http://www.youtube.com/watch?v=EFJuFw0ws2c
Concept
Making sound
Daniel Rozin, interactive wood mirror: http://www.smoothware.com/danny/woodenmirror.html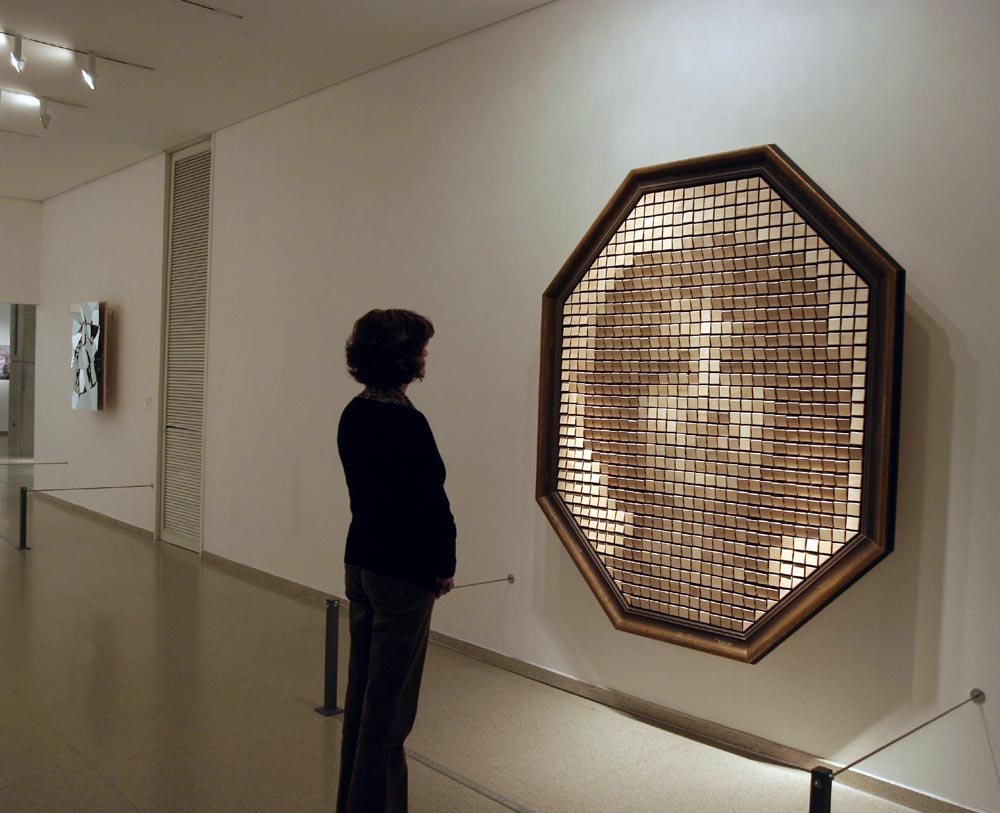 Greg Saul, paper robots: http://www.gregsaul.co.uk/lookAt/paperRobots/#0
Sleepy Box Fig.01 from Greg Saul on Vimeo.
Sound of Noice, the file: http://www.soundofnoise-lefilm.com/
Music for one apartment and six drums: http://www.imdb.com/title/tt0283326/

Saxso Funny: http://www.youtube.com/watch?v=z57MHimKQC4

Zimoun: http://zimoun.ch/works/2009/25_dc_motors_wire_isolated/25_dc_motors_wire_isolated_mov.html

Simon Elvins: http://www.simonelvins.com/paper_record.html

Tokyo Fiber: http://tokyofiber.com/fr/
Sophia Berinstein's Aluminum Tilty Toy: http://www.vimeo.com/17083537