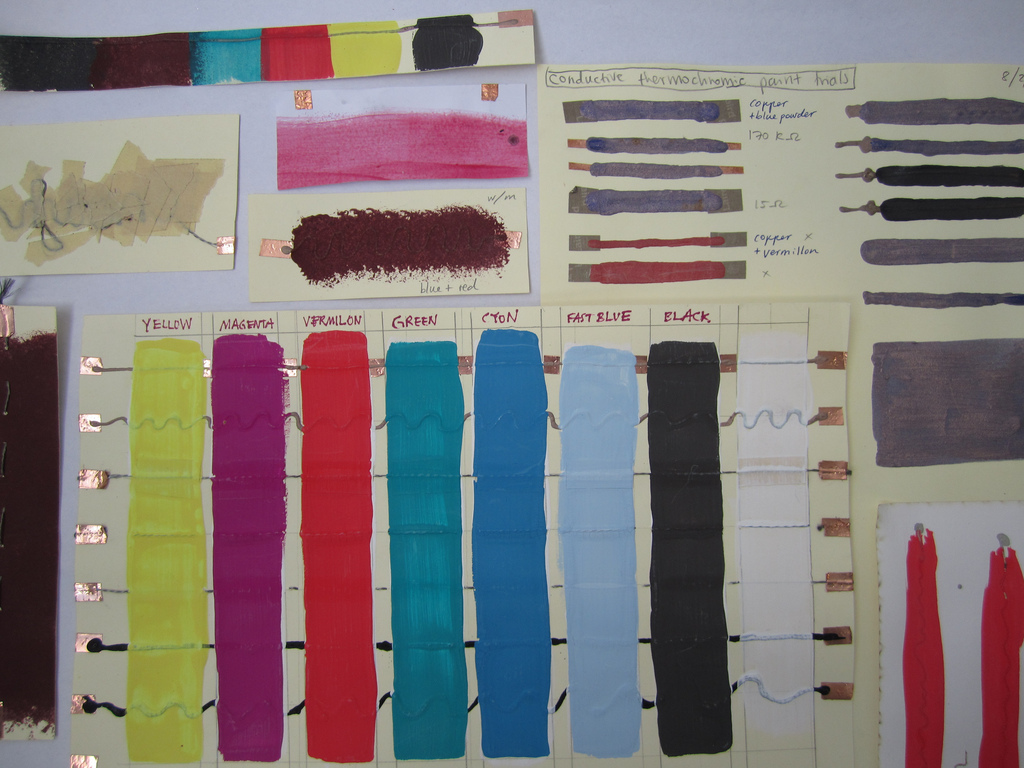 Sources for electronic and conventional textiles, conductive inks and paper, and other conductive and non-conductive materials.

Electronic Textiles
Conductive Thread, Conductive Fabric, Coductive Yarn, etc. (Retail)
Less EMF: fabric, velcro, thread
Plug and Wear: resistive and conductive thread, kits, etc
Fine Silver Products: thread, fabric
SparkFun: thread, fabric, and more
Lame Lifesaver: thread
Daburn: super fine very flexible wire
McMaster: super fine very flexible wire
Tinsel Trading Company: vintage metal threads and fabric
Thistle Threads: metal wrapped threads
Hedgehog Handworks: metal wrapped embroidery threads
Conductive Textile Companies (Wholesale/Manufacturers)
Bekaert
X-static
Shieldex
Electronic Textile Kits
SparkFun: LilyPad Arduino
Aniomagic: Schemer and other great Aniomagic kits
Fabrickit
Maker SHED: LED Sewing Kits, books (such as 'Fashioning Technology'), etc.

Traditional Textiles
Knitting Machine Yarn (Fine Knit Machine SK830)
Valley Cotton, 8/2
Aurora Cotton, 8/2
Alpaca Silk blend, 2/14
Wool Fiber and Roving
Pacific Wool and Fiber
Earth Guild
Weir Crafts
Plant Fiber
Halycyon Yarn
Cambridge/Boston Craft Stores
Mind's Eye Yarns: fiber, yarn, spinning and knitting equipment
Sew Low Discount Fabrics: fabric, findings, sewing equipment
Windsor Button: yarn, sewing notions & findings – cheap and T-accessible
Winmil Fabric: fabric, buttons, and many colors of cheap felt squares – also T-accessible
Boston Bead Company: bead store in Harvard Square

Paper Electronics
Conductive Paint and Applicators
Less EMF: CuPro-Cote paint (copper-based, highly conductive and relatively cheap but prone to corrosion)
Conductive Compounds: WB-1010 Silver Ink (silver, highly conductive, expensive)
squeeze bottles with caps (cheap)
squeeze bottles and caps (more expensive)
syringe tips (black = 22 gage, yellow = 20 gage)
Other Useful Stuff
Flexible printed circuit boards (copper on plastic film)
steel-impregnated paper
thermochromic ink
liquid crystal ink

Miscellaneous
Acrylic Sheet
US Plastic Corp.: reasonably priced, limited color selection
Solter plastics: expensive, but beautiful color, pattern, & texture selection
Casting
Smooth On: Liquid plastic, rubber, etc.
US Plastic Corp.: measuring and mixing supplies
Plywood
Boulter Plywood (on the orange line)
Misc. Interesting
Rubber sheets and rolls: silicone, latex, neoprene